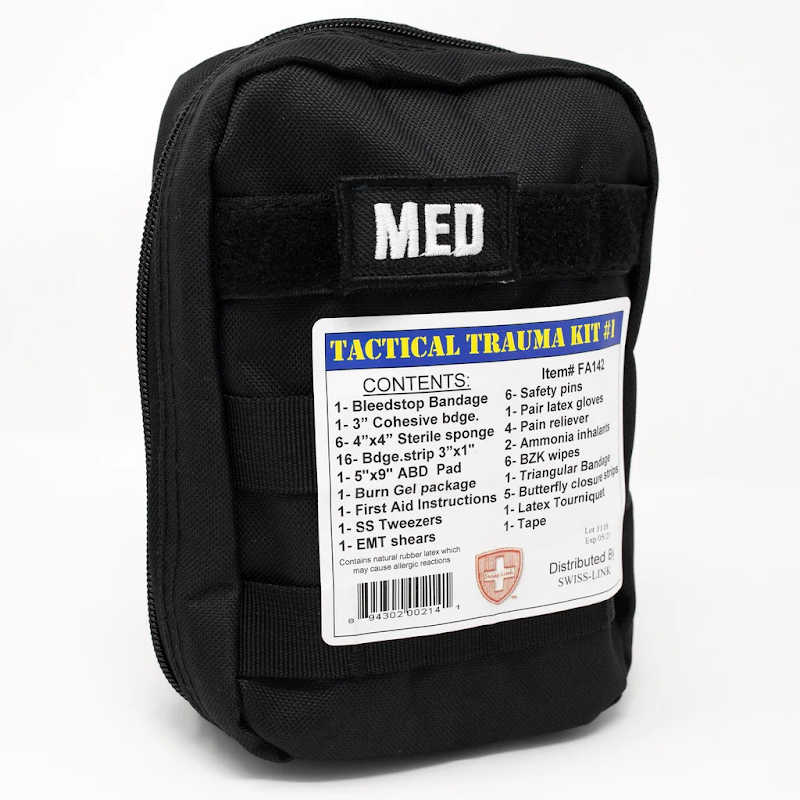 Swiss Link | Tactical Trauma Kits | 2 Kit bundle
Description

Shipping

Why buy from us?
The Tactical Trauma Kit was designed by a former para-rescue man to be used by those who might find themselves in the line of fire; police, military, tactical group, and hunters. The pouch offers easy access to all essential items in case of an emergency. The Tactical Trauma Kit #1 comes with the M.O.L.L.E. strap system and therefore can easily be attached to waistbelts, backpacks, vests, etc. The pouch measures 8"x6"x3.5", and the complete kit weighs only 1.15 lbs. The FA142 comes shrink-wrapped with a content list.
Contains 55 items, including:
1 EFA - First Aid Instructions

1 Burn Aid Package

16 Bandage Strips1'x3'

1 Tape, Roll, Adhesive

5 Butterfly Strips

1 EMT Shears

1 Elastic Bandage, 4'

1 Pair of Stainless Steel Tweezers

6 Sterile Sponges, 4'x4'
**This Item is drop shipped and currently unavailable in store.  Fulfillment for drop shipped items is 3-5 business days. 
2 Ammonia Inhalants

1 Bleed-stop Bandage

60 Antiseptic BZK Wipes

1 Abdominal Pad, 5'x9'

6 Safety Pins

1 Triangular Bandage

1 Pair Latex Examination Gloves

4 Pain Relievers
Shipping is free with orders over $100 across the contiguous USA
International shipping options available
All orders ship out within 1-5 business days
We get it. You've got alot of choices when it comes to Outdoor and Survival retailers. Here's why we think you should shop with us at Better Bushcraft.
Free Shipping across the Contiguous USA
Price Match Guarantee. Best prices online guaranteed.
30 Day Easy Returns. Not happy with your product, we'll take it back no questions asked.
Great Service. We pride ourselves on the best service, anywhere.