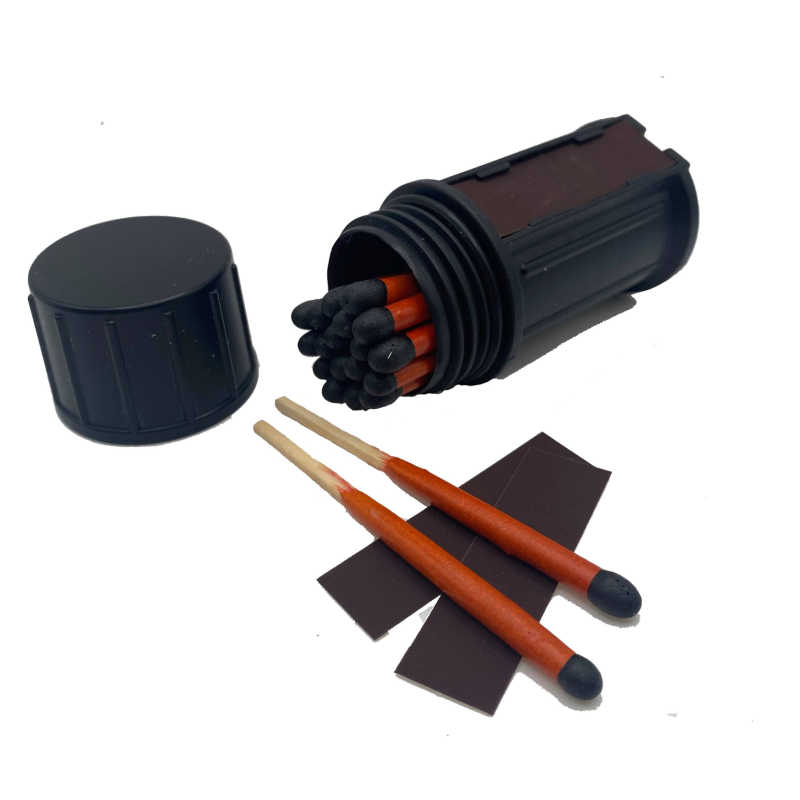 Black Beard | Storm Proof Matches | Fire Starter
Description

Shipping

Why buy from us?
Are matches more your style? Then you will love to check these out!
Be ready for any type of weather or emergency thrown your way!

This Stormproof match kit is the ultimate King of preparedness. Its heavy-duty construction and sealed carrying bottle keep the 20 (included) Stormproof Matches protected and in one place, so you can light your fire in even the most severe conditions.
Black Beard Stormproof matches are extremely resilient, being able to be fully submerged in water or earth and still stay lit!
Item includes 1 Match Kit, 20 Stormproof Matches & 3 Strike Pads

FEATURES
Tube

Lid and storage chamber; Water-resistant storage / o-ring seal

Rugged ABS plastic construction

Comes with 3 strike pads 

Ergonomic design w/ textured grip

Matches

 3" long; Burns up to 25 seconds

Windproof and water-resistant coating 

Quick lighting, hot and intense flame
BENEFITS
Contains 20 Black Beard Stormproof Matches 

Floats in water & keeps matches dry

Reusable, durable & lightweight for long-lasting use

Easy to use & provides a sturdy grip

Provides extra pads for long-lasting use and match refills

Plenty of time to get a fire started 

Matches can survive being submerged in water or rain

Matches can survive being buried with earth

Ensures fire can be started in the most severe conditions
Black Beard Stormproof Match Kit Specs
-Tube is 3 and 3/8" long by 1 and 1/2" in diameter
-Weighs a total of 59 grams
-Each match is 3" long
Matches have to ship via Ground per USPS Regulations
Shipping is free with orders over $100 across the contiguous USA
International shipping options available
All orders ship out within 1-5 business days
We get it. You've got alot of choices when it comes to Outdoor and Survival retailers. Here's why we think you should shop with us at Better Bushcraft.
Free Shipping across the Contiguous USA
Price Match Guarantee. Best prices online guaranteed.
30 Day Easy Returns. Not happy with your product, we'll take it back no questions asked.
Great Service. We pride ourselves on the best service, anywhere.