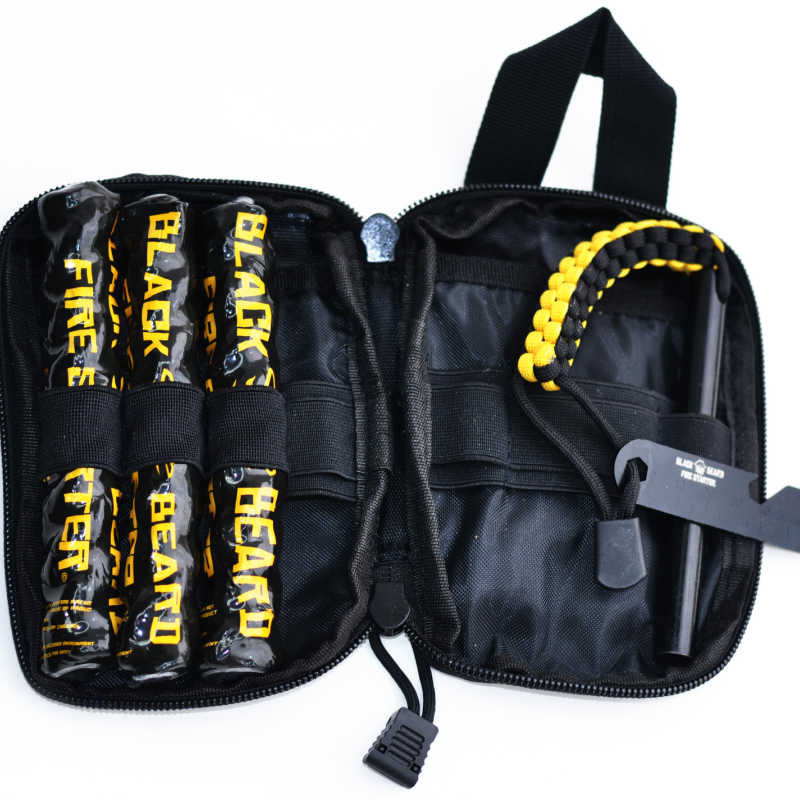 Black Beard | The Captain's Loot Kit | Fire Starter
Description

Shipping

Why buy from us?
A lot of value with this kit!
3 Black Beard Fire Starters  ($36 Value)
1 Fire Kit Organizer - ($25 Value)
1 Black Beard Ferro Rod- ($18 Value)
1 Black Beard Velcro Patch - ($5 Value)
Total Value $96 = $36 in Savings!
Fire Kit Organizer
The organizer interior includes two slip pockets, 12 elastic organizers and swivel clip. The exterior includes a slip pocket with Velcro closure,  a molle panel and carrying handle. With plenty of extra space, feel free to add whatever you would like to the kit
Black Beard Fire Starter 
We understand that one of the most important aspects of being outdoors is staying warm! That is why we have hand crafted a fully dried material that is both waterproof,  windproof, and convenient in size and weight! 
One of the best features of our Black Beard Fire Starter is that they do not have an expiration date opened or unopened. Our unique blend will never evaporate, deteriorate or dissipate and is designed to light up every time.  Black Beard Fire Starters are a must have for every backpacker, bug out bag and 72 hour/emergency kit. Throw it in your packs and don't worry about not having a fire again. 
We start with fully dried and braided cotton rope and infuse it with our special blend of odorless, non toxic waxes and oils. This treatment process allows our product to be completely safe to handle while being an extremely efficient and simple fire starting aid. 
Black Beard Ferro Rod
As legend has it, Black Beard himself went years stranded on an island with only his beard and trusted ferro rod. Rain, wind or shine it never let him down while trying to start a fire. We highly suggest you follow his recommendations and pick one up today! 
Length of the rod: 5" Diameter 1/2"

EXTRA LARGE. Super thick 1/2" in diameter  throws a MASSIVE shower of hot sparks to light fire instantly in any conditions

Windproof & weather resistant

Good for up to 20,000 strikes

Over 7 feet of paracord

Provides up to 5000 degree sparks in all weather, at any altitude. Extremely durable and reliable

Perfect emergency fire starter for Bushcraft, Hiking, Hunting, Fishing, Camping, EDC, Emergency, BBQ, Gas Camp Stoves, etc.
Shipping is free with orders over $100 across the contiguous USA
International shipping options available
All orders ship out within 1-5 business days
We get it. You've got alot of choices when it comes to Outdoor and Survival retailers. Here's why we think you should shop with us at Better Bushcraft.
Free Shipping across the Contiguous USA
Price Match Guarantee. Best prices online guaranteed.
30 Day Easy Returns. Not happy with your product, we'll take it back no questions asked.
Great Service. We pride ourselves on the best service, anywhere.