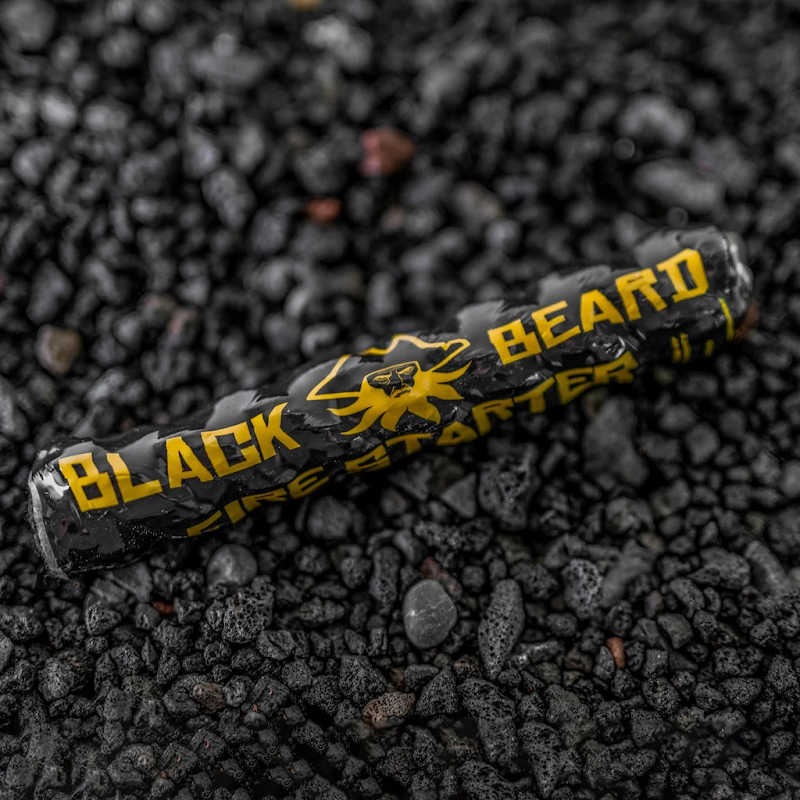 Black Beard | Weather-proof Fire Starters | 10 Starter Bundle
Description

Shipping

Why buy from us?
One of the most important aspects of being outdoors is staying warm. That is why we offer this handcrafted, fully dried material that is waterproof, windproof, and convenient in size and weight!
One of the best features of the Black Beard Fire Starter is that they do not have an expiration date opened or unopened. Their unique blend will never evaporate, deteriorate or dissipate and is designed to light up every time.
Black Beard Fire Starters are a must-have for every backpacker, bug-out bag, and 72-hour/emergency kit. Throw it in your packs and don't worry about not having a fire again.

Black Beard starts with fully dried and braided cotton rope and infuses it with a special blend of odorless, non-toxic waxes and oils. This treatment process allows the fire starter to be completely safe to handle while being an extremely efficient and simple fire starting aid
50+ FIRES FROM ONE STICK
WATERPROOF
WINDPROOF
Orders Ship NEXT Day
Made in the U.S.A
100 YEAR SHELF LIFE
NON TOXIC
ODORLESS
HANDMADE
ECO-FRIENDLY
Lightweight (65 Grams)
Cut what you need, save the rest.
Directions For Use:
Cut off the desired amount.
Briskly roll fibers in hands.
Separate the fibers and bunch them into a ball or nest.
Use your Ferro rod, lighter, electric arc lighter or preferred fire starting device to ignite.
Enjoy your warm fire!
**This Item is drop shipped and currently unavailable in store.  Fulfillment for drop shipped items is 3-5 business days. 
Shipping is free with orders over $100 across the contiguous USA
International shipping options available
All orders ship out within 1-5 business days
We get it. You've got alot of choices when it comes to Outdoor and Survival retailers. Here's why we think you should shop with us at Better Bushcraft.
Free Shipping across the Contiguous USA
Price Match Guarantee. Best prices online guaranteed.
30 Day Easy Returns. Not happy with your product, we'll take it back no questions asked.
Great Service. We pride ourselves on the best service, anywhere.