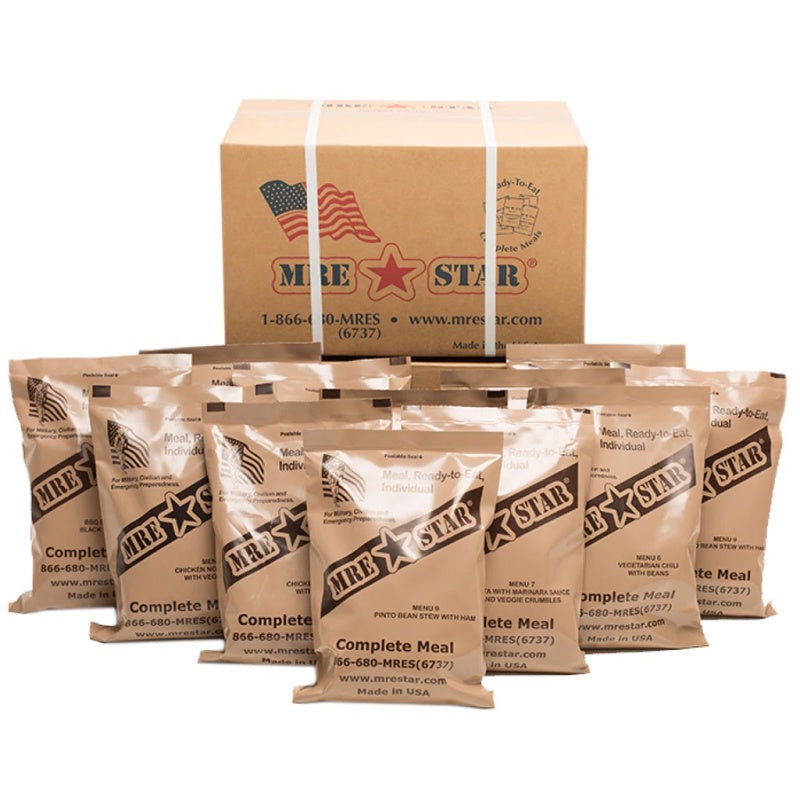 MRE Star | 12 MRE Full Case | Heaters | Standard
Description

Shipping

Why buy from us?
Standard Complete MRE available with Heater:
Flameless Meal/Ration - individually packed inside of each Standard Complete MRE 
12 meals per case individually packaged - 6 Varieties (2 of each in every case)
Each complete meal will contain an 8oz entree, 2-3 side items, a drink mix, and an accessory pack for a total of 1100-1300 calories per complete meal (13,200 - 15,600 calories per case). No refrigeration is required with up to a 5-year shelf life when stored at 70 degrees or cooler. Higher temperatures will reduce shelf life.
Standard Complete MRE 8oz Entree Options may include:

Cheese Tortellini with Marinara Sauce

Beef Stew with Potatoes and Vegetables

BBQ Chicken with Black Beans and Potatoes

Chicken Noodle Stew with Vegetables

Pasta with Marinara Sauce and Veggie Crumbles

Chicken Rice with Vegetables

Vegetarian Chili

Lentil Stew with Potatoes and Ham

Pinto Bean Stew with Ham
Standard Complete MRE Side Item Options may include:
MRE STAR Powerbar

Dry Fruit (Banana, Papaya, Pineapple)

Raisins and Nut Mix (2oz)

Flour Tortillas (2)

Sugar Cookies (2oz)

Crackers (2oz)

Peanut Butter and Jelly
Standard Complete MREs Include:

Drink Mix (Flavors: orange, lemonade, pink lemonade, strawberry, grape, fruit punch)

Accessory Pack: spoon, coffee, sugar, creamer, salt, pepper, napkin, a moist towelette
**Dated 2020 or newer**
NOTE: these do not ship outside of the United States.
Shipping is free with orders over $100 across the contiguous USA
International shipping options available
All orders ship out within 1-5 business days
We get it. You've got alot of choices when it comes to Outdoor and Survival retailers. Here's why we think you should shop with us at Better Bushcraft.
Free Shipping across the Contiguous USA
Price Match Guarantee. Best prices online guaranteed.
30 Day Easy Returns. Not happy with your product, we'll take it back no questions asked.
Great Service. We pride ourselves on the best service, anywhere.