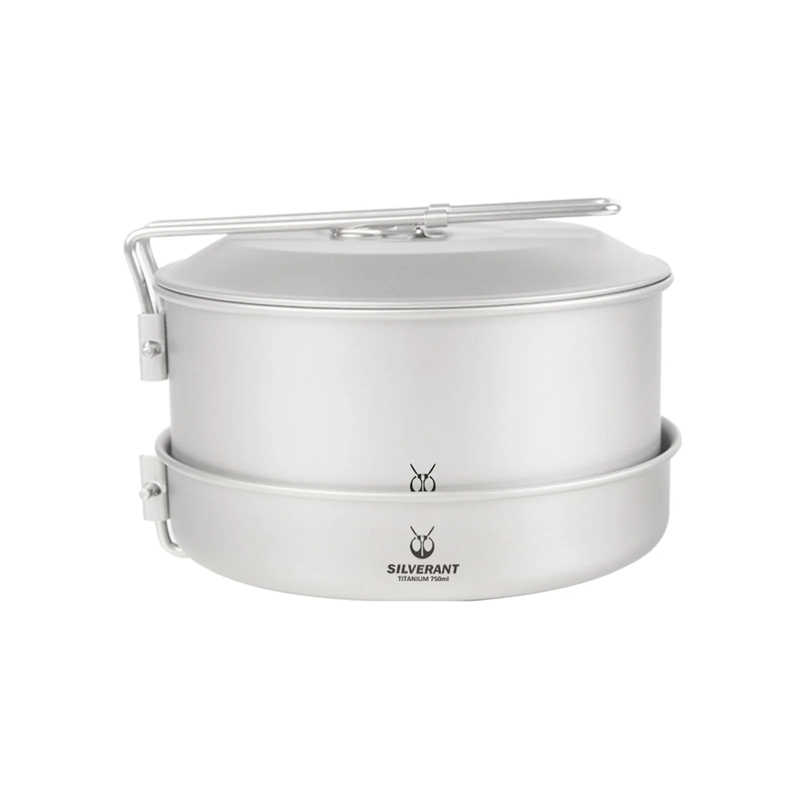 SilverAnt | Camping Cookware Set | 1600ml/54.1 fl oz
Description

Shipping

Why buy from us?
SilverAnt's essential 2-piece titanium camping cookware set.Together they allow any adventurer to prepare and cook a great outdoor meal. 
The titanium lid snugly fits both the pot and pan. Speed up cooking times and use the three holes on the lid to strain water when cooking.
When you've finished cooking and cleaning nest the pot inside the pan and fold the handles, placing the lid on top.
Easily transport the titanium cooking ware set in your rucksack inside the handy mesh drawstring bag.
The frying pan and pot come with super strong and durable retractable folding handles.
The pot, pan, and lid are made with a titanium single-wall construction. The handles are stainless steel.
Building upon our previous titanium camping cookware set we included a handle stability slider.  Lock the slider into position when cooking and when storing slide and fold the handles.  
The SilverAnt team and BetterBushcraft team alike, love the minimalist consumption ethic. We similarly like to buy gear that lasts a lifetime of adventures.
When you purchase a titanium camping cookware set from SilverAnt you receive a lifetime warranty.
Cooking Pot
Capacity - 1600ml/56.3fl oz
Height - 100mm/3.93 inches
Width - 170mm/6.9 inches
Weight - 296g/9.4 ounces

Frying Pan
Capacity - 750ml/26.4 fl oz
Height - 35mm/1.37 inches
Width - 172mm/6.8 inches
Weight - 142g/5 ounces

Total Weight: 438.5g/15.46 oz.
100% Titanium
Retractable sturdy handles
Uncoated and unlined surface
Ultralight titanium
Single-wall construction
Perfect weighted feel
Corrosion-resistant
Biocompatible
Non-toxic and non-allergenic
Drawstring carry case
Compact nesting design
Lifetime guarantee
Shipping is free with orders over $100 across the contiguous USA
International shipping options available
All orders ship out within 1-5 business days
We get it. You've got alot of choices when it comes to Outdoor and Survival retailers. Here's why we think you should shop with us at Better Bushcraft.
Free Shipping across the Contiguous USA
Price Match Guarantee. Best prices online guaranteed.
30 Day Easy Returns. Not happy with your product, we'll take it back no questions asked.
Great Service. We pride ourselves on the best service, anywhere.