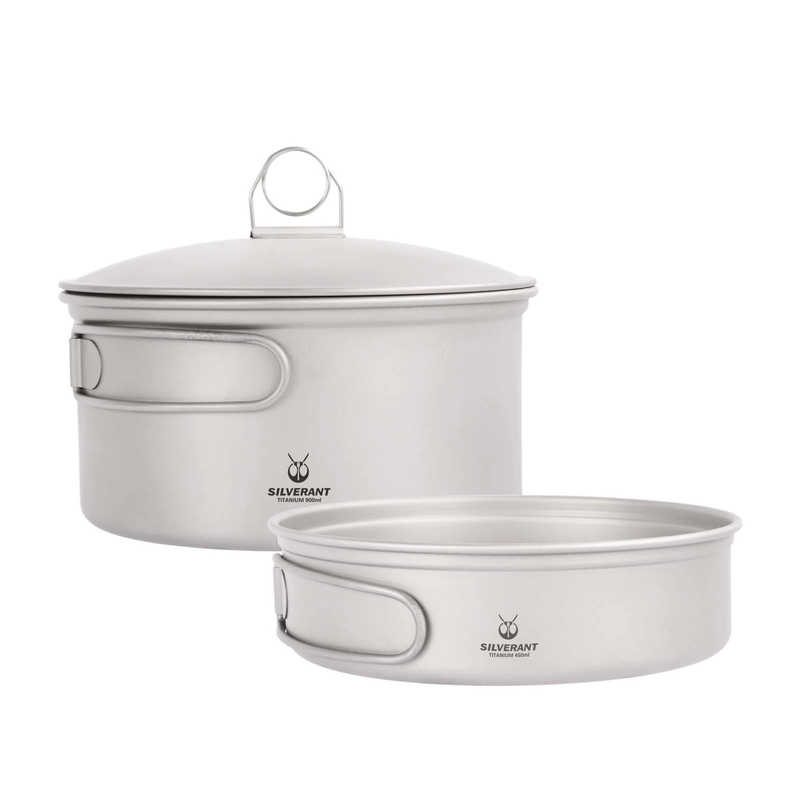 SilverAnt | Ultralight 2-Piece Cookware Set | Titanium
Description

Shipping

Why buy from us?
Are you ready for compact and ultralight cookware set for your solo camping trip or a backpacking trail with a partner?
Look no further than the SilverAnt Ultralight 2-Piece Titanium Cooking Set.
This set includes a 900ml/30.4fl oz camping pot and a 450ml15.2fl oz frying pan, both made of high-quality titanium. Another advantage of this cookware set is its weight. At just 303g/10.67 ounces, it won't add unnecessary bulk to your backpack. Plus, the foldable handles make it easy to pack and store.
Features Of The Best Titanium Cookware
The cookware set includes a lid that can be used on both the pot and the pan, making it possible to quickly cook your favorite dishes or boil water. Additionally, you can remove the lid using a long-handled spork to stick it into the ring on the lid without risking burnt fingers.
As a bonus, the set comes with a mesh drawstring bag for easy transportation. You can nest the pot and pan together, store your food inside, and tighten the bag for a secure fit.
Benefits Of Titanium Gear
Titanium has many advantages, not only is it biocompatible and safe for cooking, but it's incredibly durable. Unlike other materials that can degrade over time, titanium can withstand years of use and abuse.
In addition to its durability, titanium is also a great heat conductor. This means that your food will cook evenly and quickly, saving you time and fuel.
Cleaning the Ultralight 2-Piece Titanium Cooking Set is a breeze. Simply use a mild detergent and warm water, along with a non-abrasive cloth. Rinse, dry, and store for your next adventure.
At SilverAnt, we're committed to producing high-quality and long-lasting outdoor gear. When you purchase our Ultralight 2-Piece Titanium Cooking Set, you'll receive a lifetime warranty.
Camping Pot
Capacity: 900ml/31.67 fl oz
Weight: 197g/6.94 ounces
Width: 150mm/5.9 inches
Height: 150mm/5.9 inches

Frying Pan
Capacity: 450ml/15.8fl oz
Weight: 106g/3.73ounces
Width: 150mm/5.9 inches
Height: 43mm/1.7 inches

Total Weight: 303g/10.58 oz


Retractable Folding Handles
Uncoated and unlined surface
Ultralight titanium
Single-wall construction
Perfect weighted feel
Corrosion-resistant
Biocompatible
Non-toxic and non-allergenic
Drawstring carry case
Compact nesting design
Lifetime guarantee
Shipping is free with orders over $100 across the contiguous USA
International shipping options available
All orders ship out within 1-5 business days
We get it. You've got alot of choices when it comes to Outdoor and Survival retailers. Here's why we think you should shop with us at Better Bushcraft.
Free Shipping across the Contiguous USA
Price Match Guarantee. Best prices online guaranteed.
30 Day Easy Returns. Not happy with your product, we'll take it back no questions asked.
Great Service. We pride ourselves on the best service, anywhere.