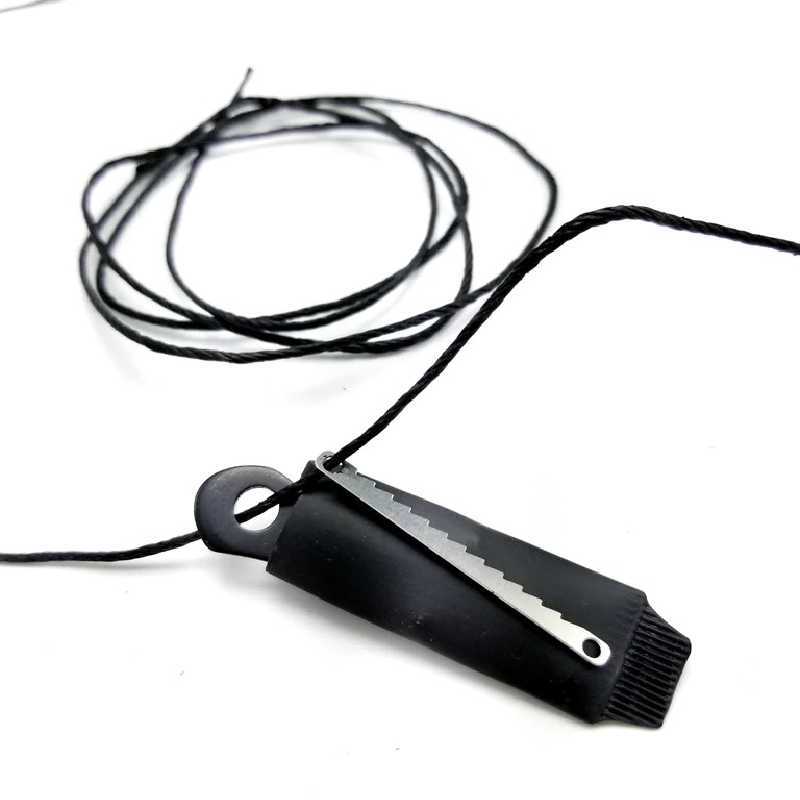 Superesse Straps | SERE Lanyard | Escape Implements | EDC Tools | Advanced Kevlar Friction Saw Necklace | Black
Description

Shipping

Why buy from us?
SERE LANYARD
(V-Cutter Restraint blade, cuff key, saw shim, Kevlar friction saw, glass striker bead, glow closure)
Essential Survival and Escape supplies to defeat restraints, remove self from illegal custody, break a vehicle window for egress, and accomplish other EDC required tasks.
The tools provided allow for escape from zipties, duct tape, locked car doors, single/double locked handcuffs, ropes, and other restraint systems. 
KEVLAR LANYARD
 Advanced Kevlar Lanyard: Black Kevlar Utility Cord (K.U.C.): 600TEX rating for use as Sawing Cord and Snare Wire (200lb tested - Improved Coating for UV/Friction Resistant).
Saw branches/zipties/ropes, fashion a bow saw, catch wild game using as a snare wire, make a trip line, use as garrote. Adopted by US Army SERE specialists and NAVY Seals.
1. Micro Striker Bead Tungsten Carbide (MSB-TC) for breaking tempered glass windows (car side windows). 6.75mm x 3.25mm. Mohs scale hardness of 9 defeating all weaker materials (only diamond has a higher rating). While the bead can be directly struck against glass the best delivery system for effective breaking would be swinging the bead on one end of the necklace while grasping the end with other tools. Wind up with multiple rotations for greater force. 

2. SERE V Cutter, Restraint/Trauma Shear: lightweight, cutting device that slices though webbing, seat-belts, 550 paracord, zip-tie restraints, ropes, or shred thru clothing to attend to wounds quickly. This cutting tool is easily deployable and equipped to the outer band securely thru a lanyard hole.

3. Non-Metallic Handcuff key: TIHK Brand with clip. Back up replacement for LEO, Military, Security Personnel or as concealed tool to defend against hostage/kidnapping/illegal detainments. 

4.  Luminous Cord Closure: easily snaps onto ends of cord and attaches to lanyard, install or remove more quickly than tying a knot. High glow output, simply charge under light and closure will provide  soft glow for operations in low-lit conditions.

5. Saw Shim Tool: Superesse designed, surgical flex steel. Single side serrated saw edge. Slim build allows for shimming restraints. Outfitted with two punched lanyard holes. Create finger loops with cordage and run thru lanyard holes to create grips for utilizing as a saw.
**This Item is drop shipped and currently unavailable in store.  Fulfillment for drop shipped items is 3-5 business days. 
Shipping is free with orders over $100 across the contiguous USA
International shipping options available
All orders ship out within 1-5 business days
We get it. You've got alot of choices when it comes to Outdoor and Survival retailers. Here's why we think you should shop with us at Better Bushcraft.
Free Shipping across the Contiguous USA
Price Match Guarantee. Best prices online guaranteed.
30 Day Easy Returns. Not happy with your product, we'll take it back no questions asked.
Great Service. We pride ourselves on the best service, anywhere.