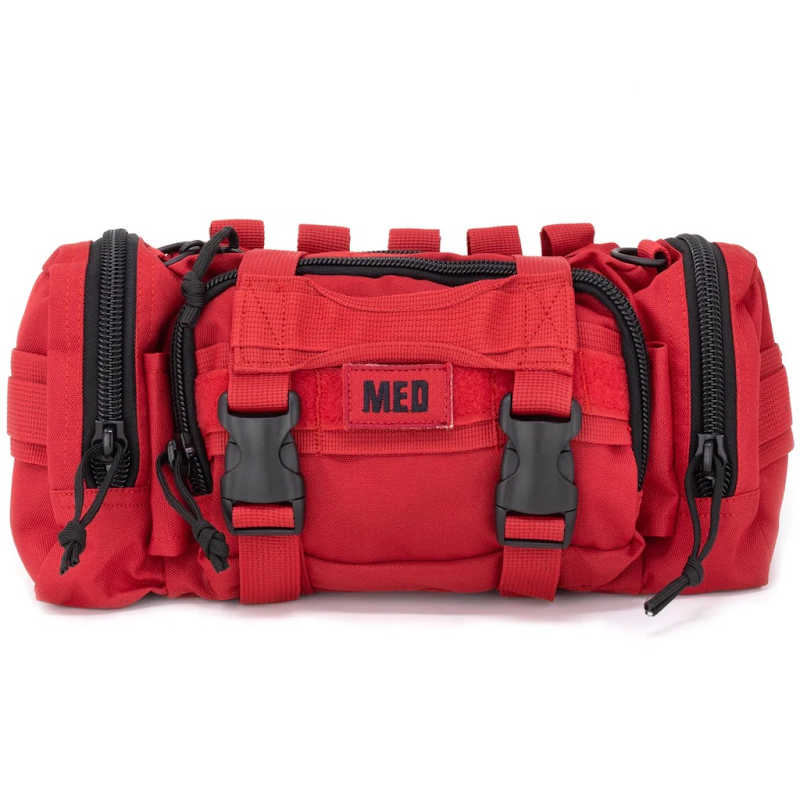 Swiss Link | First Aid Rapid Response Kit | EDC
Description

Shipping

Why buy from us?
Looking for an Individual First Aid Kit (IFAK)?
Consider this small but LOADED IFAK, complete with an array of all different types of first aid. Ensuring you have the correct equipment at the correct time. 
The Swiss Link Rapid Response Bag comes with easy to use M.O.L.L.E. Straps with snaps at one end to attach to a belt up to 5″ wide. It can be worn in any other location with additional Alice clips (not included). It is a lightweight quality designed bag with multiple compartments.
This kit was custom designed by request of Elite military units desiring a more compact & light kit for their daily field operations.
Contents:
SS Tweazers (x1)

SS Hemostat (x1)

4" x 4" Sterile Gauze (x1)

Conforming Gauze 4" x 4.1 yards (x2)

Multi-Trauma Dressing (x1)

BleedStop Bandages (x2)

Suture (x1)

Pain Relievers (x10)

First Aid Instructions (x1)

Iodine Wipes (x12)

Butterfly Closure Strips (x5)

First Aid Burn Cream (x1)

EMT Shears (x1)

Oral Airway (x1)

2" Elastic Bandages (x2)

5" x 9" Abdominal Pads (x3)

Latex Tourniquet (x1)

1" Tape (x1)

Pair BLK Nitrile Gloves (x1)

Bandage Strips 1" x 3" (x16)

BZK Antiseptic Wipes (x12)

Triangular Bandage (x1)

Ammonia Inhalants (x2)
Weight: 2.5 lbs
Dimensions: 11" × 6" × 6.5"
Shipping is free with orders over $100 across the contiguous USA
International shipping options available
All orders ship out within 1-5 business days
We get it. You've got alot of choices when it comes to Outdoor and Survival retailers. Here's why we think you should shop with us at Better Bushcraft.
Free Shipping across the Contiguous USA
Price Match Guarantee. Best prices online guaranteed.
30 Day Easy Returns. Not happy with your product, we'll take it back no questions asked.
Great Service. We pride ourselves on the best service, anywhere.